Read-A-Thon AT Lincoln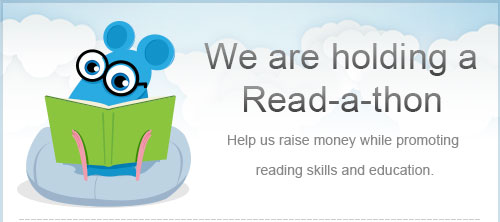 Welcome Parents, Students, and Friends to our Read-a-thon!
This year, we are excited to announce that we will hold a Read-a-thon fundraiser. Our Read-a-thon is a program that brings students together with family and friends to encourage reading and to build literacy skills, EVEN AT-A-DISTANCE! The main focus of the Read-a-thon is for everyone to know we are committed to improving reading skills. To that end, the Read-a-thon promises to be a fun, exciting journey for all participants as they begin a personal Reading Adventure that challenges each reader to complete 10 reading sessions over our 2-week event.
Our Read-a-thon will start April 7, 2021.
We encourage you to activate your reader's account today by clicking on https://www.read-a-thon.com/readers/r/GoTdBe and following the simple instructions. (search by teacher or by code you received from your teacher)
We understand that, as parents, you have high expectations for the quality of your child's education but also have limited time. That's why we chose to hold a Read-a-thon. You will find this to be the easiest fundraiser possible. By simply activating your reader's personal page and using the promotional tools found there, friends and family anywhere in the world can show their support for your reader by making a donation to your Read-a-thon.
But wait, there's more!
The Top 3 Readers and the Top 3 Earners at Lincoln will win a prize!
Top Reader Prizes
Top Earner Prizes
Eric Smith said that "When kids grow up not seeing themselves in books, they grow up feeling like they don't matter." Instead of teachers having to pay out-of-pocket to add variety to their classroom libraries, this fundraiser is helping teachers supplement their classroom libraries with more diverse books! If we exceed our fundraising goal for books, the money raised by this fundraiser will also go towards enhancing PTA initiatives that will better reflect our physically, mentally, and emotionally diverse Lincoln Community. Curious about some of the characteristics at Lincoln? You can check out our Illinois Report Card!
Your involvement in the Read-a-thon will help your child develop a lasting love of reading. We hope each one of you will activate your child's personal page the day your child brings home their paperwork.
-The Lincoln PTA